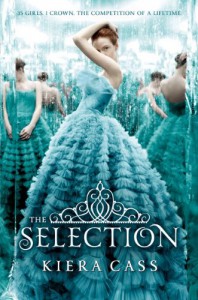 This book drew me in with its insanely beautiful cover. As soon as I saw it, I wanted to read it. Lately, though, I've been reading books with amazing covers that didn't live up the expectations that I had for them, so I didn't anticipate liking this book as much as I did. I really like it.
Meet America Singer, a young girl in Illéa, the country that used to be the United States. In this society, there is a caste system, starting with the Ones, who are royals, down to the Eights, who are basically the dregs of society. It's generally frowned upon (and that
might
be an understatement) for you to marry into a caste below you. That doesn't stop America--she's a Five who is totally in love with a Six, and she doesn't care what people will think as long as she gets to be with him. So, where's the conflict, and what exactly is
The Selection
?
Whenever there is a prince who comes "of age," there is a competition between girls from throughout the country. They apply through a lottery and are
selected
to move into the palace for as long as it takes for the prince to choose who will become his wife. It's like
The Bachelor
.
The girl who "wins" will become a princess, and eventually queen. The others are elevated in status and receive monetary compensation--which means a lot to America's practically starving family. Regardless, America doesn't even want to enter the drawing. She wants to be with Aspen, but he insists that she apply. You know what happens. She enters and gets chosen. She moves to the Palace and meets the handsome prince.
I really like America's personality. She's strong
and
vulnerable and doesn't take any crap from anyone. Right from the beginning of her relationship with Prince Maxon, she shows her true spirit. I also really like how, even though at times America is irrational, she's totally justified in those feelings. There are some swoony moments, too, with Maxon and with Aspen. js
You'd think this story would be totally cliché, but it isn't. There are totally predictable parts that bugged me a little, but I definitely liked the way that Cass allowed us to root for the Prince without feeling like we are betraying Aspen. And I found myself in an almost unprecedented situation: I'm not on a team. I love Maxon
and
Aspen and don't know who I want her to be with. I'm leaning slightly more toward Maxon, but
come on
, he's a
prince
!
So what didn't I like? Besides knowing what was going to happen, wayyyy before it happened, I didn't like the ending. Not that exactly--I was proud of America, but I didn't like
where
it ended. I don't know if it's because I'm kinda tired of reading all these series, but I didn't like that the story wasn't complete in one book. Thank rob she didn't leave it at an evil cliffie. It's still safe to read; I just wish we didn't have to wait however long to find out what will happen.
The Selection
has got some drama, but overall it's a fun, quick read. I think you'll like this story.